Pricing Strategy
The asking price on a listing has a great impact on the interests of prospective buyers.
Price it right from the start
Sales statistics show that properties that are initially priced too high eventually sell for less than properties that were correctly priced in the first place. Also, over-priced houses can take months or even years to sell, while properly priced houses usually sell in a matter of weeks or even days. Request your agent to presents a CMA (or Comparative Market Analysis). The average or median price will likely be very close to your home's true market value.
Activity vs. Timing
This chart illustrates the level of excitement and interest in a new listing over time. It also demonstrates the importance of pricing correctly. When a property is first listed, it generates a very high level of interest from prospective buyers, which reduces dramatically over time. It is important to be priced correctly from the beginning, during the peak of this curve.
The Importance of Pricing
​The following graph illustrates the importance of pricing correctly. The centerline represents market value. As you move above this market value, you attract much smaller percentage of prospective buyers, greatly reducing your chances of a sale. Conversely, as you move below market value, you attract a much larger percentage of potential buyers.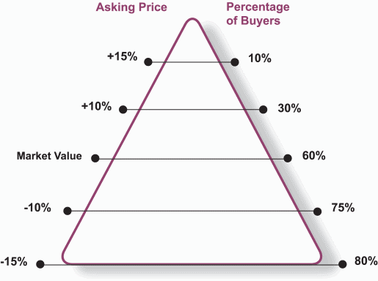 What is a CMA ?
The best method available to home sellers to learn their home's current value so they can select the best sale price is a CMA, or Comparative Market Analysis. CMA is the term real estate professionals use when they conduct an in-depth analysis of a home's worth in current market.
Serving South and Central Florida
Since 1997 we've helped thousands of buyers and sellers succeed with their real estate goals. We're here for you. Come Succeed With Us.